About Us
Come Join Us! We've A Lot To Offer!
Bosham Sailing Club is a family-based sailing club located at the Old Mill on Bosham Quay. We are the oldest sailing club in Chichester Harbour and celebrated our Centenary in 2007.
Something for everyone
BSC is a wonderfully welcoming club that balances a range of activities with a varied and enthusiastic social calendar. It includes all levels of sailing from learning to sail and dinghy racing through to Channel cruising and crossing oceans! We are rapidly expanding into other outdoor activities that include rowing, paddle boarding and kayaking with plenty of equipment for loan and hire.
We run an active social programme linked to sailing, so on or off the water you can be sure of good company, whatever your particular sailing interest. Even if you're new to water sports we cater for beginners and those who would like to explore which type of sailing or activity suits them best.
Unique and stunningly beautiful location
A 10th century church, an historic Quay and all-tide access for launching dinghies make Bosham the perfect place for sailing. Our lovely Clubhouse, once a water mill, is the ideal setting for the social side of sailing watching the racing from our quayside terrace, chatting over a drink with friends and enjoying our excellent professionally-staffed bar and restaurant. We are proud of the fact that Bosham Sailing Club is the longest-established sailing club in Chichester Harbour and believe that it also has the most picturesque view from the terrace that is West facing and benefits from a much-photographed sunset.
Lively Cadet Fleet
Our encouragement of sailing starts with our Cadets, who can progress through the classes from Optimist and Mirror to Topper, RS Feva, Laser, 420 and beyond. Our training and racing is more than just an activity for cadets; it forms friendship groups proven to last for lifetimes and indeed many cadets are now second or third generation Bosham juniors! The active cadet social scene means that most sailors are involved in club activities all year round and see BSC as a place to meet friends or look forward to visits with families.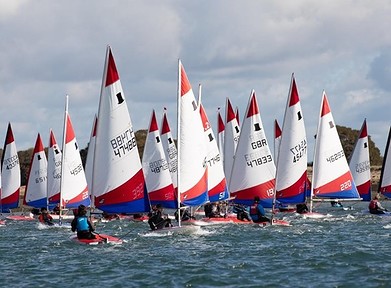 Each summer we host Chichester Harbour's premier Junior Week Regatta, when, besides all the keen sailing there is an amazingly busy social schedule. Cadets find time for plenty of games, activities, their own black-tie Dinner and the end of Regatta Disco.
Our Stunning Classic Dayboat Fleet

We have perhaps the largest fleet of competitively sailed classic dayboats made of traditional woods or modern replicas in the UK. Individual heritage craft and traditional classes such as National 18s, Chichester Harbour Twelves and Eighteens, Sharpie, Yachting World Dayboats, Fairey Falcons and Tideways are all represented, together with more modern day-sailers including Devon Yawls. What better way to enjoy the glories of Chichester Harbour!
Racing In Performance Dinghy Classes And Fleets
As well as classic sailing Bosham also races standard classes through handicap racing including very active Finn and Laser fleets. There is also an enduring class of Chichester Scows that benefit from regular fleet racing and a very active social programme. Our Sailing Programme features racing every weekend from Easter through to December and sunset racing on Fridays throughout the summer. So there's lots of scope for competitive class and handicap racing as well as plenty of family sailing or just getting on the water in a more relaxed style.
Cruising In Good Company To The Horizon And Beyond
Friendly rivalry rather than cut-throat competition is the order of the day for our races and rallies around The Solent and longer cruises to France, the Channel Islands and the West Country. Members sometimes take on distance events such as the Fastnet, the AZAB and the ARC. One or two of our 130+ boats have even completed global circumnavigations.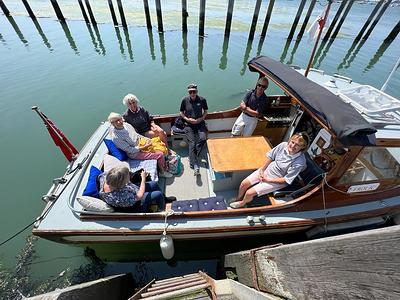 All this is complemented by relaxed conversation over dinner at our rally destinations and at our series of informal winter suppers at the Club which usually feature a presentation of sailing interests. Everything from maritime history to members' cruising exploits!
Friendly Social Scene
Our year-round programme of entertainments brings everyone together - family events, theme evenings, barbecues, quiz nights, gastronomic gatherings and black-tie dinners all feature. All ages and tastes are catered for, so whatever your principal interest, you can enjoy life on and off the water with us!
Last updated 13:41 on 15 November 2023