BSC Newsletter 15 September 2021
Published 10:45 on 16 Sep 2021
---
Cadet Super Sunday Sunday 19thSeptember
This Sunday is last of the 2021 Cadet Super Sunday series when the fleet winners and prizes will be determined. Unless otherwise advised via the fleet whatsapp groups, timings are as follows:
0945: Briefing on the BSC terrace by RO, Simon Radford
1045: First race (3 short sprint back to back races)
Launching will commence as soon as we can after briefing to avoid congestion on the quay in the following order: Feva, Topper, Optimist Gold, Optimist Silver. Duties still need to be filled for Sunday, so please volunteer if your child is planning to sail.
After racing, there will be some JW kit and other clothing available for sale. The BSC lost property that has been collected over the summer will be on display for owners to claim too. In addition, a well deserved pizza is available for all hungry sailors on the terrace afterwards.
We look forward to seeing as many cadet families as possible on Sunday!
Pizza on the terrace - Sunday 19th
Back by popular demand, from Sunday lunchtime onwards ie after racing on Sunday, we have Bullyard Pizza serving a great choice of freshly made pizzas on the terrace. There's no need to book, and it's open to all members. We look forward to seeing you there.
---
Gifts and Messages - Gavin
If you would like to contribute towards a gift or leave a message for Gavin please see your 'members hub' on the BSC website.
All details can be found under 'Gavin King's Leaving Gift and Messages'.
---
Training Reminder
For cadets....over half term we are running RYA Stage 2 and 3/4 in Oppies & Fevas. As well as race training for Fevas, Toppers & Oppies and Feva Harbour racing.
For over 16's - PB2, Safety Boat, RYA Level 2/3, Start Racing plus RYA Day Skipper Theory in the New Year.
Book your place by using this link
Also look out for RYA First Aid, Marine VHF and RYA Diesel Maintenance coming soon!
---
2nd October - Paddlesports Talk and Dinner with Paul Smith OBE

Paul, a navy veteran, was involved in a road traffic collision leaving him paralysed after developing locked-in syndrome.
Paul realised he would not be able to work again so decided that he would use his time fundraising. He's done very well raising a staggering £2.3 million for numerous charities tackling mind boggling challenges from wheeling up the Rock of Gibraltar, skydiving to wheeling from Plymouth to London and the list goes on.
Paul was going to retire from fundraising in 2017 but circumstances saw him determined to row the Channel in a single sliding seat scull, which his talk this evening will focus on as he trained locally in Chichester Harbour. 100% of the talk fee will go to Brain Tumour Research.
Booking is essential and needs to be made by midday on Wednesday 29th Sept. See here.
---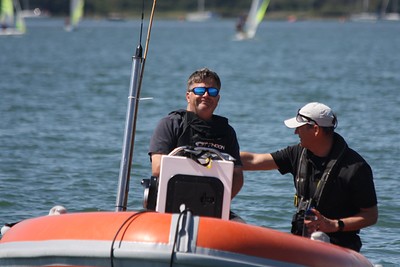 Duty reminder
Here is your weekly reminder that we need more people to volunteer for a duty this weekend.
We need power boat helms and crews on both Saturday (Laser Open Meeting) and Sunday (Club Handicap), plus it's a Cadet Super Sunday so there's plenty for cadet parents to sign up for.
If you have not done a duty yet this year, now is the time to sign up here.
---
Barts Bash
Last weekend's racing was Bart's Bash, raising money in memory of Olympic Sailor Andrew (Bart) Simpson for the Andrew Simpson Foundation.
We had 73 boats competing across all of our racing classes from National 18 to Optimist. The CDB's had the best of the wind on the Saturday with 14-17kts in the Harbour and Bosham Channel, whereas on Sunday a light 5kts filled in for the afternoon racing in Bosham Channel and Cutmill. Six seperate course lengths were measured:
Optimist - 1590m
Topper - 1830m
Slow Handicap - 2420m
Fast Handicap - 5530m
Slow CDB - 5810m
Fast/Medium CDB - 12210m
Handicap-corrected times and course lengths were submitted to the Bart's Bash website to compute a handicap-corrected average speed. Sadly, a slight snafu in measuring meant the Silver Oppie results could not be submitted. Apologies for that. Also due to a quite complicated results upload system, some people may find themselves listed twice.
Unsurprisingly, given the wind conditions, it was the CDB's leading the way. Our results are visible here. The BSC winner was Izzy Lee in a Scow (48th in the global rankings at the time of writing), followed by Phillips/Reed/Watney in a N18 and Judy Roberts also in a Scow.
Well done to all who sailed!
Most importantly, thanks to kind donations BSC has raised over £700 for ASF, helping to transform lives through sailing. The donation page remains open here so it's not too late to contribute to the fundraising total.
Thanks to all who donated.
---
Roast Lunches Return

From the 1st October 2021 roast lunches will be available at BSC.
Roasts will be available on the 1st Sunday of each month and booking is essential.
Bookings can be made here.
---
Last updated 10:50 on 16 September 2021