BSC Newsletter 24th May 2023
Published 10:52 on 25 May 2023
---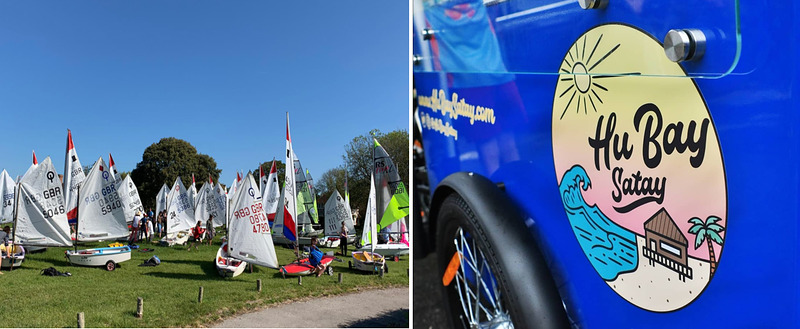 Junior Regatta - cadet entries
Reminder - please enter this Saturday's Junior Regatta in advance here.
Main channel from 13:00 for 420s/Lasers/Mirrors/Fevas & Toppers. Oppies will be racing from Cobnor at 14:00 & will need to sail down.
Committee boat fleet briefing on the patio at 11:30 with Optimist briefing at 12:30.
Hubay Satay Electric Food Bike

Hubay Satay will be here for food after the racing. No need to book, just purchase on the day!
---
Bank Holiday Weekend Sailing - Help Needed

We are still in need of help with various duties during this coming bank holiday weekend.
Both patrol crew and drivers on the Sunday 28th & Monday 29th are required. Please sign up on the duty roster here.
Many Thanks.
---
Bosham Masters Weekend 19th-21st May
Although light winds started off the 2023 Bosham Masters, racing ended with a Force Five & challenging sailing!
Huge thanks to our sponsors Stride & Son for their support in such a memorable race weekend in Chichester Harbour.
See the full report here.
---
Optimist Open Meeting @ Hayling Island Sailing Club

Sun, sand, wind, waves, about 120 boats across 2 fleets. 7 races in the regatta & 6 in the main fleet out of the Harbour! Summer is definitely here!!
Results: Pippa 9th Main Fleet - Felix 37th Main Fleet - Finn 20th Regatta Fleet - Oscar 54th Regatta Fleet
---
Ladies Lunch this Friday!
Last chance to book your place for the upcoming Ladies Lunch, this Friday 26th May @ 12:30.
Helen's delicious buffet, a glass of bubbly and great company!
Bookings close at midnight tonight! To book your place please see here.
---
Valiant in Venice
On Sunday 28th May, the Bosham Belles will be taking part in the Vogalonga in Venice!
A non competitive rowing celebration starting at St Marks Square. For more details see here.
The Belles have been training hard and look forward to sharing their story on their return!
---
Last updated 10:57 on 25 May 2023