National Stay At Home Motor Show: 20th March 2021
Published 11:42 on 20 Mar 2021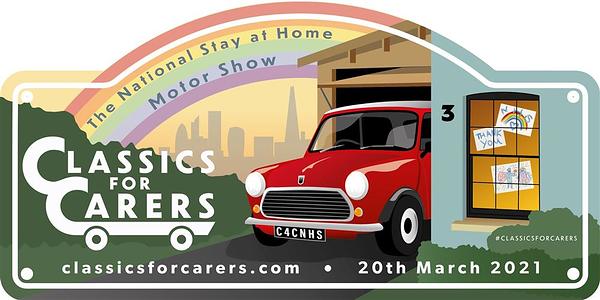 A number of Bosham Members are today taking part in the National Stay at Home Motor Show
Following the success of two events in 2020, raising £17,500 for NHS charities and winning an RAC Historic Award, voted Motoring Spectacle of 2020, Classics for Carers is back for 2021!

The 2021 event is focused on NHS well-being and mental health, aiming to raise £13,000 to fund an NHS well-being pod - a quiet restorative space for staff.
Join the classic motoring community by sharing your passion for motion on the driveway and online, to give those on their permitted daily exercise, a different view for the day!
As social distancing measures continue in 2021, to protect the NHS and save lives during the COVID-19 pandemic, the motoring and motorsport sector endures a prolonged period of cancelled show, races and meetings.

The 20th March 2021 show provides an opportunity to roll out your restoration or park your pride and joy on the driveway.
Show your support by either purchasing an event rally plaque or sticker (where all profits also go to the NHS charity), or by making a donation on this page.

Be part of the national stay home motor show. #classicsforcarers
For more details see: www.classicsforcarers.com
https://www.justgiving.com/fundraising/classicsfor...

Last updated 10:20 on 22 March 2021