BSC Newsletter 1 December 2021
Published 12:12 on 2 Dec 2021
---
Recent IOCA Competition
The BSC optimist team of Zac Shepherd, Pippa Shepherd, India Eastwood and Tom Eastwood had a good event at the IOCA Optimist Winter Championships at Rutland Water over the weekend of 20/21 November.
There were 85 sailors aged 10-15. It was a 2-day event, and it was extremely windy and bitter particularly on the Sunday. Piers did a sterling job as part of the race team on the main committee boat. Zac and Pippa had excellent days on the Saturday, with India and Tom benefitting from the increased breeze on the Sunday.
India had two very strong finishes with a 10th and 11th place finish in the last two races which sent her up the leader board. Despite Pippa feeling unwell all weekend and throwing up in the 2nd race of the day on Sunday (in 20kts of breeze), she still kept going very impressive grit and determination! The final positions after 6 races with one discard were:
India 20th
Zac 28th
Tom 37th
Pippa 50th
Given the smaller number of girls than boys competing, India's position secured her a trophy for 4th girl overall and her first podium finish in a national Optimist event. All four children are improving their rankings which bodes well for next season's events.
---
Bosham Reach Talk Tonight
Hear Mike Brooke's story of an inspirational voyage around Britain in 2008 onboard a 19ft Cape Cutter named Theo's Future.
The adventures and hardships faced by this small yacht in memory of his beloved eldest son Simon, and in so doing, raise money for crucial research that might assist his blind Godson, Theo, to gain his sight.
Mike Brooke published an account of his incredible 86 day voyage around Great Britain. Click here to read more.
All members are welcome to join Mike Brooke in the Clubhouse from 6pm or alternatively on Zoom link here. See details below.
Meeting ID: 896 5162 9057
Passcode: 318354
---
Availability - Chichester Marine Training

Chichester Marine Training have reserved the week of 9 May 2022 for any Bosham members who are interested in doing either their Day Skipper Practical or Competent Crew Course.
Book by the end of January to get the 2021 price. Contact nikkidimmer@chichestermarinetraining.co.uk
---
Safety Patrol Boat this Sunday
We are pleased to advise that on Sunday, 5 December 0930-1300hrs there will be a safety patrol boat(s) on the water to facilitate cadet casual sailing.
Depending on numbers and weather conditions there may be some informal racing possible too. Adults wishing to sail at these times are more than welcome as well. Sailors intending to launch should sign-in on the day and take note of the specified patrolled sailing area.
Please note that Risk Statement and Standing Notice of Race applies. In addition, the decision of the patrol boat driver and/or the Sailing Manager about when conditions are safe to sail (or not) is final.
---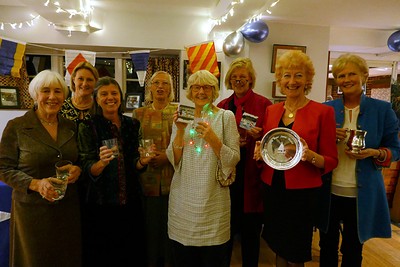 Scow Prize-giving and Dinner, Saturday 27th November
Despite a very blustery evening around 30 Scow sailors, family and friends gathered at the Club to enjoy Helen's excellent dinner, followed by our annual Prizegiving.
Pam Sweet presented a new social sailing award in memory of Peter, and this was deservedly won by Daphne Gardner.
David MacFarlane was kind enough to present the 2021 series racing prizes. Many congratulations go to all the winners but especially to Izzie Lee who completed a clean sweep of five trophies!
---
Dinghy Prize-Giving 12th December

The Dinghy Prize-Giving event will take place at 4pm on Sunday 12th December.
Please see reminder below for returning any outstanding trophies. Thank you
---
Cadet End of Year Prize Giving & Scottish Dancing 3 January
On Monday 3 January at 4pm the annual end of year Cadet Prize Giving will take place at BSC.
Adding to this fantastic event is Scottish Dancing which is being hosted by Tris and Becs Mayhew starting at approximately 5pm.
All ages are welcome and no previous experience required! Please pop this date in your diary if you haven't already.
---
Ongoing Trophy Returns
Thankyou to all those who have returned trophies to date. The prize-giving's have been hugely enjoyable events.
The next BSC prize-giving events will be held on Saturday 12th December, so please don't forget to return any trophies to the office (polished and engraved). Thankyou.
Coming up:
12th December DINGHY Prize-giving
3rd January CADET prize-giving
See the BSC Calendar for more details here.
---
Book your Sunday Lunch!
This coming Sunday 5th December
Slow cooked lamb or Baked field mushroom
Both served with;
Minted roast new potatoes
Med veg & lentil ragout
Seasonal greens
Something sweet....
Rhubarb & apple crumble with vanilla ice cream or Cheese, biscuits & preserves
---
BSC Film Night 6 December

Monday 6th December 6-30 for 7-00pm in the Clubhouse.
A low-budget, limited release 2002 independent film than won no awards but went on to be the highest-grossing romantic comedy of all time.
Hot Dogs and Ice Cream in the interval. The hot dogs comprise Treagust sausages in Westbourne Bakery rolls served with Lucinda's yummy Onion Marmalade and salad.
Book here.
---
BSC Christmas Carols 16th December

Christmas Carol singing will be held on 16th December at 18:30.
There will be mince pies and mulled wine available.
We are in need of members who can help out in any way. It will be most appreciated! Thank you.
---
Don't forget the BSC Club Draw Saturdays!
Last Saturdays prize of £360 was not won.
The rollover is now £370 but you must be in the bar at the time of the draw to win!
Every Saturday between 7:30pm and 8:30pm
---
Pinkster Gin offers
On Friday evening, Stephen Marsh - Pinkster Gin Founder, tantalised our tastebuds for a most enjoyable evening of gin tasting.
There is a special 10% discount available to all BSC members on all online Pinkster and Hedgepig products via the Pinkster website.
Please quote reference BSCROSE2021 at checkout. To find out more about this offer and a range of other offers available to BSC members, please click here.
---
Last updated 09:01 on 13 January 2022