Bosham Masters last weekend!
Published 15:15 on 25 May 2022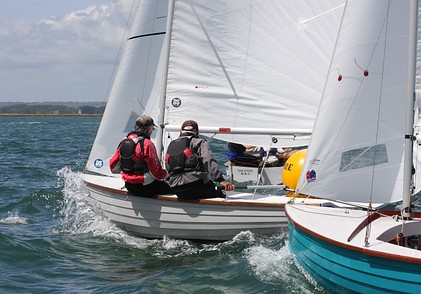 Fifty boats from Bosham's Classic Day Boat fleet and 80 sailors enjoyed three days of close racing in ideal conditions for the Bosham Sailing Club Stride & Son Masters 2022 regatta on May 20-22.
The two races a day format kicked off with brisk 20mph-plus wind and a rough chop on the Friday, providing a sailing challenge for boats that ranged from Scows and Tideways to Finns and National 18s.
The wind eased to a steady southerly on the Saturday and Sunday, and calmer waters and blue skies ensured champagne sailing perfect conditions for the Yachting World Dayboats that made up the largest class. Sixteen boats competed over the weekend in the YWDB Open, with visiting sailors some sailing from Bosham for the first time giving the event a big thumbs up.
Izzie Lee was crowned Bosham Master 2022 after coming first in five out of six races and dominating the Scow class. Other winners included Owen Davies (Fast handicap), Nigel Russell (YWDB), Patrick Disney (Devon Yawl), Gregor Grant (Medium handicap), Ian Wheeler (Tideway) and Michael Camps (Slow handicap).
Prizes were awarded by Tom Prower of Masters 2022 sponsor Stride & Son at a packed prize-giving on the club terrace on Sunday afternoon. Tom had also been out on the water finishing fourth in his new YWDB in what was only the second time he had sailed it.
The racing was matched by a full social programme with lavish cream teas served every day and a memorable Saturday evening on the terrace with live music from the Simply Jazz Quartet and a superb bowl-food selection served al fresco.
"The Bosham Masters is back with a bang; roll on next year," said Bob Murray from the organising team behind this year's event."With the essential support of Stride & Son, BSC pulled out all the stops to make the Masters 2022 a roaring success. Many thanks must go to the many volunteers from rescue boat drivers to cake bakers and sandwich makers who contributed so much to making the event so safe and enjoyable for all who took part."
Special thanks to Bob & Lyn Murray plus all those who were involved in making the event such a huge success.

Last updated 15:35 on 25 May 2022