BSC Newsletter 3rd August 2022
Published 16:01 on 16 Aug 2022
---
Junior Week 2022

BSC Junior Week is almost upon us! Registration will be held this Saturday 6th August.
Keeping up to date - If you haven't done so already please sign up to the JW Whatsapp group here.
Please ensure that you have returned any Trophies, polished and engraved, to the office.
---
Junior Week Socials
A friendly BSC reminder that there are various social events happening during Junior Week which at times will affect bar opening hours.
To see the full size poster with event dates and timings please see this page.
BSC Bar Timings
The Bar will be opening at the earlier time of 14:00 from Monday the 8th to Thursday the 11th August during JW.
N.B. Due to JW events, the bar will be very busy around scheduled events. Please be aware and plan accordingly.
---
Junior Week Reunion - 13th August
Calling all previous Junior Week competitors - the countdown is on for the Junior Week Reunion 2022!
Last year's event was a huge success and with DJ Si booked in, this year is looking just as good! So dig out your sailing gear and keep an eye on the website for food and ticket info.
If you have any questions, contact Grace Radford graceaspinradford@gmail.com
---
Bosham Sailing Club Regatta - 27th August 2022
Your Regatta Needs You!!
Organisation of our flagship fantastic sailing event is well underway, but we are seeking volunteers for some important roles.
Having people in these roles early on makes the day run smoothly and is very rewarding.
See here for full details and sign up for duties on the duty roster.
Contact RC Dinghies at RCDinghies@boshamsailingclub.com / 07733 324259
---
Rowing trophy for Bosham Belles
BSC Rowers retain the St Ayles Skiff trophy for the Hayling Race hosted by Coastal Rowing Academy!
'The Bosham Belles' (aka - Becs, Claire, Rachel & Jane) coxed and coached by Peter Moir-Haining, rowed the shortened course - just the 11 miles - in F5+ winds no easy feat.
Well done the Belles and Peter.
---
BSC Cruisers at the RYS
On the 8th September the BSC Cruisers are heading to Cowes for a dinner at the Royal Yacht Squadron.
Please contact RC Cruisers rccruisers@boshamsailingclub.com for more information.
---
Show us your burgee
In the latest instalment of 'show us your burgee' we've headed to Scotland the McCormacks flying the BSC burgee with pride on Vic32 Puffer
Email us with your BSC burgee pics to feature - let's see how far our burgee can go!
---
The Birdman is back!
Join local ornithologist Hugh Baggaley for a guided walk around the Harbour at Bosham to discover the remarkable array of birds found here. The walk is suitable for all levels of knowledge, and no prior experience is required.
Walks exclusively planned for members are 1st October, Wednesday 11th January & Sunday 12th March, when different varieties of birds are likely to be seen.
Bookings will be via the website in the next couple of weeks.
---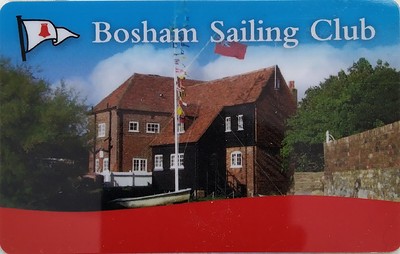 Topping up your BSC Red Card!
Please do remember to top up your Red Card balance before you visit the Club.
This allows us to ensure the quickest service possible, especially amidst busier times such as Junior Week.
Thank you
Last updated 11:45 on 13 July 2023