BOSHAM SAILING CLUB BACK ON THE WATER... SAFELY
Published 17:03 on 23 Feb 2021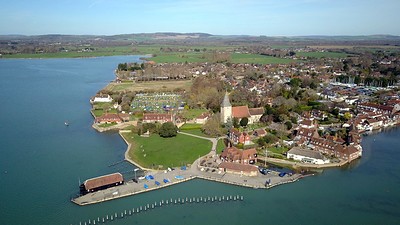 Now that we've all heard the much awaited guidelines for our road to freedom, we're really looking forward to getting the 2021 season started. The Flag Officers met immediately after the guidelines were released, so we can begin to plan with more clarity and we're very excited to announce the following:
BSC RACING

Racing will begin from 29 March subject to updated RYA guidelines, which have yet to be released. This means that our opening meet on Sunday 28 March will sadly not go ahead.
BSC TRAINING
All training will go ahead as planned. Once again, we are awaiting the RYA guidelines, and until then, all double handed boats will need to be crewed by members of the same family. Please sign up if you haven't already, before Monday 1 March, when places become available for non-members.
CHANGING ROOMS
The changing rooms will remain closed until we have received the updated RYA guidelines. We look forward to opening them as soon as we are able.
PADDLESPORTS

The club has SUPS available for member use (free of charge Monday to Friday) which will be available from 29 March. Members will be able to use Valiant, although we are awaiting RYA guidelines on whether it will be limited to members of the same household only.
LAUNCH SERVICE
Emma will be up and running from Thursday 1 April. We are currently recruiting for a launch driver (see 12 February newsletter) and contact sailingmanager@boshamsailingclub.com if you know of someone who may be interested.
BAR & SOCIAL
On the 12 April, outdoor hospitality will be allowed, with the rule of six still applying. We will be opening the bar for drinks and food on the terrace. Definitely watch this space for further announcements.
RESTAURANT

Restrictions on indoor hospitality are due to be lifted on 17 May (with the rule of six / two households together only) and after which the club aims to resume its packed and exciting scheduled programme of hospitality. RC House will contact everyone who has an event in the diary in the interim, to discuss the various options.
ACTION COUNT DOWN TO 29 MARCH
Make sure your boats are ready to go
Make sure YOU are ready to go, your kit still fits and your buoyancy aid is in one piece
If you haven't already signed up for a duty, please do so before the cut off date of Sunday 28 March, after which you will be allocated a duty. Click here to sign up. We will be contacting those of you who had very kindly signed up for 28 March, to rearrange.
Sign up for a training course - we have a full programme for both adults and cadets.
We are all very excited about the restrictions being lifted, but we must continue to abide by the rules until then. We are opening up the club in a safe and controlled manner, and ask all our members to help by adhering to the guidelines and staying safe.
We look forward to seeing you all very soon.
Reminder - Bosham Reach, Thursday 25 February 6pm.
After George Storton's revealing insight into the Royal Navy for the first Bosham Reach webinar, our second online talk takes to the wing and the world of birds. If you have ever wondered how to tell an oystercatcher from a curlew this is the talk for you!
Your online guide is the award-winning young ornithologist and Bosham resident, Hugh Baggaley. Since graduating in 2017, Hugh has run guided birdwatching walks for the RSPB and birdwatching boat tours for the Chichester Harbour Conservancy. And as someone who also runs Birdwatching for Beginners talks, he insists that no prior knowledge is needed in order to appreciate our feathered friends.
Bosham Reach online webinar by Zoom, 6pm Thursday 25 February. The link to join will be sent to all members the day before.
Last updated 17:35 on 25 February 2021