British Keelboat League Last Weekend!
Published 13:08 on 22 Jun 2022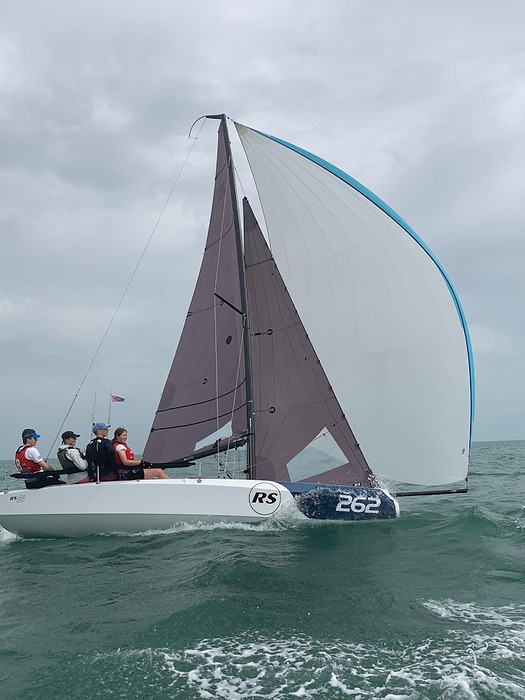 Five sailors, four from Bosham including James Curtis as Helm, with Ella Eastwood, Frederick Chaplin, Isabelle Aston and Kuba Staite, from Hayling Island SC, as crew sailed in the British Keelboat League's 3rd championships of the year at Hayling Island Sailing Club. This was our first event racing in Keelboats.
The British Keelboat League was established back in 2016, with the aim of getting more sailors sailing Keelboats, running championships across the country. The racing at Hayling was sailed in RS21 Keelboats, a 21 foot racing Keelboat designed to be sailed by up to five sailors. There was a 'series of short sprint races' (BKL, 2022), lasting 12 minutes each, which made for close racing, where you could never relax because of the fear of being overtaken!
The first day started with nearly no wind out in the racing area that was Hayling Bay, just West of West Pole, and there was nearly a three hour wait until our first race. As there were more teams than boats, we were swapping in and out of boats all day, which also gave us some rest when we had a race off. As we had the first race off it meant we didn't sail the boat out to the race course. This meant the first time we stepped in an RS21 was about 3 minutes until the start of our first race, so not much time to practice or work out the complex spinnaker hoisting system! Nevertheless we managed to work it out and had some highlights including several of our upwind beats, although it was usually the downwind where we lost places due to our unfamiliarity with the RS21's asymmetric spinnaker. Although we were mainly sailing at the back of the fleet we had learnt a load and had some great fun!
The second day started with a great amount of wind, with gusts of 27 knots with a North Easterly direction. On this day it was Kuba's turn, as he took over from Ella. Kuba being a 29er sailor, which also has an Asymmetric spinnaker, brought some valuable information to the team. In our first race of the day we achieved a second place, by far the best result of the event. For the rest of the day we had some more ups and downs, including some racing closer to the front of the fleet, as well as some less great moments involving being over the line and being disqualified for a close windward leeward situation just after the start, obviously I thought we were right but the juror seemed to have other ideas!
Overall I think I can speak for all of us and say that it was a really enjoyable event, it was such a great experience to try our hand at Keelboat racing, something that none of us had really done before. The #rockupandrace format, where the boats are already at the event and all you have to do is pitch up, makes it so accessible to all and I would highly recommend giving it a go.
Lastly I'd like to say a huge thank you to HISC, the British Keelboat League and of course the amazing people I sailed with - Ella, Fred, Isabelle and Kuba.
James Curtis - Laser (ILCA 6) sailor and cadet committee member

Last updated 22:02 on 16 January 2023