BSC Newsletter 22nd June 2022
Published 15:25 on 23 Jun 2022
---
British Keelboat League

Last weekend, a team of cadets from BSC - James Curtis, Ella Eastwood, Frederick Chaplin and Isabelle Aston sailed in the British Keelboat League's championship racing from HISC.
None of them had ever sailed a Keelboat before, and they were racing against seasoned adults.
It was a fabulous team effort and you can read the full report here.
---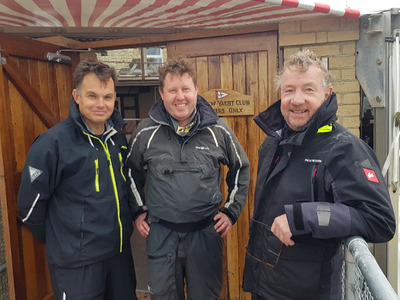 Prince Philip Cup 2022
BSC entered a team for the Prince Philip Cup at Seaview Yacht Club on the 20th June competing with 8 other clubs.
The sailing was intense with 6 races held during the day. For the full report on the BSC website please see this link.
---
Saturday 25th - BSC's inaugural rowing regatta
Only two more sleeps till our first rowing regatta!
We will be welcoming rowers and their boats from Dell Quay, Itchenor and Tudor Sailing Clubs.
Members are welcome to come and watch from 09:00, either from the Club or if you have a boat moored in the channel you can have ring side seats!
Do join the social BBQ on the terrace from midday which is open to all members. No booking required - the more the merrier!
---
Protest Committee for Finn Open

We are in need of an additional member for the Protest Committee at the Finn Open Meeting on 17th & 18th July.
Any helpers would only be called upon in the unlikely event of a protest being lodged.
Please contact the office asap if you are able to help. With Thanks.
---
Finn Fest Open - Dinner Saturday 16th July

The Finn Open Festival held on the 16th & 17th July has a celebratory 2-course dinner held on the Saturday evening.
All members are welcome to take part in the dinner and can book places online & see menu options here.
---
Cadet Training
There is a range of training for cadets available over the summer holidays and October half term.
Ranging from RYA stages to specific fleet race training courses suitable for beginners to more experienced sailors wishing to hone their racing skills.
For more information, availability and to make a booking please click here
---
Chichester Harbour Race Week
Monday 15th to Friday 19th August
Just a reminder that the CHRW 2022 'Early Bird' entry offer expires on Thursday 30th June.
For further details including entry see here.
---
Clubhouse Opening Hours Reminder
Please note that the club is locked outside office and bar hours at all times.
Please ensure that you remove any items or valuables during opening hours.
Anything left after closing can only be collected the following day when the club is open. Thank you.
All timings can be seen here.
---
Friday Supper 1st July
Don't forget to book your place for the next delicious Friday Supper on 1st July from 19:00.
For details of the full Asian themed menu and to book your place please see here.
---
Return of the Tern Project
The return of the Tern initiative is an environmental project undertaken by the Friends of Chichester Harbour in partnership with Chichester Harbour Conservancy.
The project will focus on nature recovery stretching along the South Coast.
Full details can be seen here.
---
Royal Yacht Squadron 6th August
On Saturday 6th August the Royal Yacht Squadron is planning an event to celebrate the Queen's Platinum Jubilee.
If you would like to know more please contact Ginny Kidd (ginny.kidd@gmail.com).
Ginny has kindly offered to be the coordinator for any Bosham members wishing to take part. Find all the details here.
---
Launch Emma
The BSC launch will not be operating this coming Friday 24th June, so is not available for any members wanting to access their moorings by prior arrangement.
Normal service resumes on Saturday and Sunday.
---
Last updated 22:02 on 16 January 2023