BSC Newsletter 30th March 2022
Published 15:14 on 2 Apr 2022
---
Topper Open Meeting
Entries have opened for the Topper Open Meeting on Sunday 24th April from Cobnor.
For more details (including the Notice of Race) and to enter, visit the event page here.
---
Training Update!
Easter courses - spaces for Oppie Next Steps (Stage 2) and Improvers (Stage 3) and race coaching in Fevas and Toppers
Extra RYA Diesel and VHF dates added - 7th/8th May
Committee boat familiarisation (free) is full on Saturday but there are spaces on the 9th April
Private tuition sessions are proving very popular. June dates being added soon!
Book all training here.
---
BSC Summer Bar Hours

The Summer bar hours (see here) come into effect from Monday 4th April. Please note that the bar will be closed on Monday & Tuesday evenings (except on Bank Holidays and for events).
We have managed to maintain our prices over the last couple of years, but now that our suppliers have increased costs, you will notice a small percentage increase at the bar.
---
BSC Boat Jumble this weekend!
There is still time to donate items for the boat jumble, which will greatly help support the Youth Sailing Fund.
This Saturday 2nd April from 10:00 in the Clubhouse.
For more details including terms & conditions plus contact emails, please see here.
---
BSC Exercise Class Mondays!

Don't forget the BSC Exercise Class held at 17:30 every Monday.
Sessions last for one hour and are suitable for all abilities / fitness levels.
More information and to book your place see here.
---
BSC Quiz Night 9th April
Come and join us for the next BSC Quiz Night on Saturday 9th April!
Tickets cost £6 and include the quiz, hosted by our very own Keiron Holyome, plus a bowl of Helen's delicious curry.
The evening starts at 19:00. To book your place click here.
---
Easter Sunday Lunch 17th April
Come and join your fellow members in the Clubhouse for a delicious roast lunch on Easter Sunday.
For menu details and to book your place see here.
---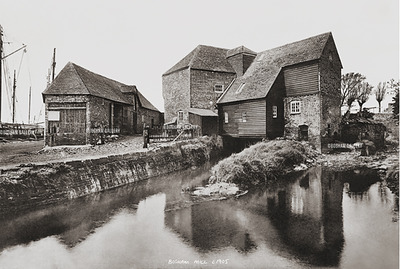 BSC Hydro-Electric Project
Rebecca Mayhew, RC Planning and Howard MacKenzie-Wilson, our Water Bailiff, are investigating the possibility of installing some form of hydro-electric power-generating plant in the millrace at the clubhouse. More details here.
Any members who feel that they could contribute, either with appropriate expertise or financially, towards the feasibility study, are invited to contact RC Planning at RCPlanning@boshamsailingclub.com.
Image kindly provided by Luke @ Bosham Gallery. Reference: Bosham Gallery Archive 1950 / Title: Bosham Mill c1905
---
Access for members to the Quay
For any members needing to gain access to the quay for drop offs or boat launching, all the gate codes needed are on the BSC website within your Members Hub. An additional reminder was also sent out in this weeks emailed newsletter.
---
BSC Friendly Reminders

As the sailing season has begun and the clubhouse is starting to get busier please remember, for the benefit of all members, that:Children under the age of 12 should not go beyond the step in the bar area
Dogs must be kept on leads while on the terrace and are not allowed inside the club
Members' guests (which includes non-member spouses and children over 7) need to be signed in and can only visit up to 6 times in a year.
---
Last updated 19:17 on 29 April 2022